Black+Decker is considered one of the most reliable and trusted brands when it comes to the most powerful and reliable electronic products, especially air conditioners. People usually keep moving from one brand to another after using its products. Still, only minor chances are that a person can move to any other brand once he uses its high-performance home appliances.
It's latest and trending product is the advanced Black and Decker Portable 14000 BTU Air Conditioner. In this review, we will show you some amazing things about this must-have unit.
Specifications of the black and decker air conditioner
Brand: Black and Decker
Model Number/Version: BPACT14WT
Color: White
Control Mechanism: Remote Control
Control Panel Type: LED Control Panel
Cooling Power: 14000 BTU (British Thermal Units)
Heating Power: 11000 BTU
Hose Length: 4' 11"
Unit's Body DImensions: 17.1 x 13.8 x 28.1 inches
Max Cooling Area: 51 Square Meters (550 Square Feets)
Max Heating Area: 18 Square Meters (200 Square Feets)
Lowest Supported Temperature: 16 Degrees Celsius
Highest Supported Temperature: 35 Degrees Celsius
Power Cable/Cord Length: 2.1 Meters (6.9 Feet)
Maximum Hose Length: 1.5 Meters (4.9 Feet)
Body Type: Compact
Installation Required: No
Assembly Required: No
Batteries Required: No
Machine's Weight: 31 Kg (68.3 lbs)
Warranty Available: 12 Months for Parts and Labor
Warranty Available: 5 Years for Compressor
Features of the black and decker portable AC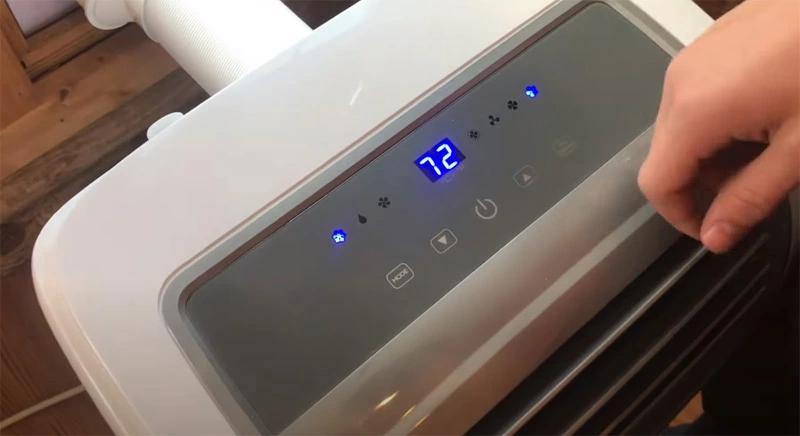 14000 BTU Cooling Power
11000 BTU Heating Capacity
Self Evaporation
Compact Design
Sliding Filter
LED Digital Control Panel
Remote Control
14000 BTU Cooling Power
No doubt, this air conditioner is a full-fledged package of power and cooling ability. The design comes with a small body design, but it can beat many high-priced air conditioners of this type when it comes to performance.
It comes with a cooling capacity of 14000 BTU, which can quickly provide cooling for a mid-range to a large-sized room of up to 550 square feet. Because of its high 14000 BTU capacity, it can bring favorable results in open concept living areas.
11000 BTU Heating Capacity
As is mentioned above that this is a full-fledged unit; it has a high heating capacity of 11000 BTU. This will be an ideal air conditioner for people who live in a place that experiences extreme weather conditions in summer and winter. The air conditioner can heat a mid-size room of about 200 square feet, making it suitable for offices, bedrooms, shops, etc.
Self Evaporation
The self evaporative feature helps the air conditioner to automatically evaporate the moisture outside the unit. There is a drain hole at the bottom of the unit that prevents leakage. The evaporation process will stop once the water receptacle is full. Just open the drain hole and plug the hose there. It will help remove the water efficiently without any hassle.
Compact Design
The unit is designed by considering all the aesthetics and convenience. It has caster wheels at the bottom that allow the user to move the black and decker portable air conditioner from one place to another without lifting it. The AC also acquires minimum space because of its advanced compact and slim design.
Sliding Filter
This fantastic air conditioner comes with a large filter that slides effortlessly from behind. Just take out the filter and put it under the tap water to get it cleaned properly. This can be used just by washing it with water. It doesn't require to be replaced very often.
LED Digital Control Panel
The air conditioner comes with an attractive digital control panel that includes different types of symbols and LED lights to highlight the symbol whose setting is activated at the time. The control panel is located at the top of the unit, which allows you to access and watch the settings with many conveniences. The snowflake LED symbol represents the cool mode, the sun symbol is for heat mode, and dehumidification is indicated by the water droplet symbol.
Remote Control
Remote control features allow the user to operate their air conditioner without leaving their comfortable bed. The remote does include some extra features as well, including a 24 hour ON/OFF timer, max mode, swing function, slim mode, and many more. 
Benefits of the black decker BTU 14000 portable air conditioner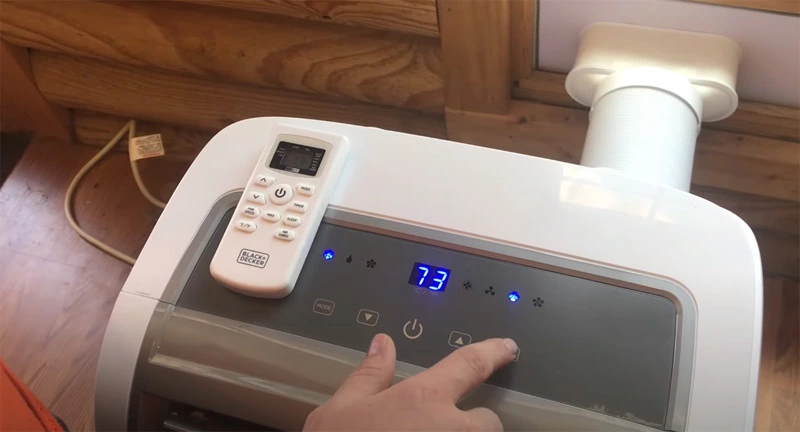 Black and Decker Portable AC is extremely easy to install and operate.
It's a 3-in-1 air conditioner with cooling, heating, and dehumidification functions.
The remote control features additional comfort.
With its 14000 BTU power, it can provide you with a high level of performance on extremely hot days.
Easy mobility and can be moved from one room to another just by pushing the unit from behind.
This air conditioner includes a fan mode that is a great option when you need mild cooling on your desired fan speed.
Its slide-out filters allow you to wash and clean the filters every few days without any need of replacing them very soon.
Its dehumidification function ensures a pure and moisture-free atmosphere for the residents.
One of the best things about this air conditioner is its eco-friendly nature which makes it safe for family, pets, and the environment as well.
Downsides of the black and decker BPACT 14WT AC
A bit noisy for the people who are fond of quiet and silent places.
You may need to wait for 24 hours before starting the unit only if it has been laid on its side for some time.
May require a bit more maintenance as compared to other air conditioners.
Black and decker portable 14000 BTU air conditioner review – worth buying or not
If you live in an area where you have to experience extreme weather conditions, you should consider buying this fantastic portable air conditioner. With its brand reputation, customers' positive reviews, and expert suggestions, this unit is worth buying for all types of places, no matter if it is a home or an office.