If I'm asked what the greatest thing about the 21 century is, I wouldn't even think twice before responding that it is technology. The use of technology is so pervasive that even the blinds and the deaf can pinpoint the roles of technology in society.
No one in society wants to be left out of the fast-paced global attempts to completely switch from the conventional analog way of doing things to digital. One of the latest technological advancements is the Ecobee smart thermostat; a device designed to bring nothing but comfort to homeowners to improve their wellbeing.
As an HVAC professional (based on experience), I am often confronted with the question, "is Ecobee compatible with my HVAC system? Your answer may be as good as mine, but to find out, you have to read this article because therein contains the answer to the question.
What is an Ecobee SmartThermostat?
Ecobee is a Canada-based home automation company that produces devices like; contact sensors, smart light switches, temperature, & occupancy sensors, and smart cameras. One of the latest introductions to their product line is the SmartThermostat which has some similarities to their 2017 Ecobee4, but with some upgraded features like a better quality speaker, faster performance, louder, and improved remote sensor.
Where is Ecobee manufactured?
Ecobee products are designed in Canada but assembled in Taiwan.
How do Ecobee sensors work?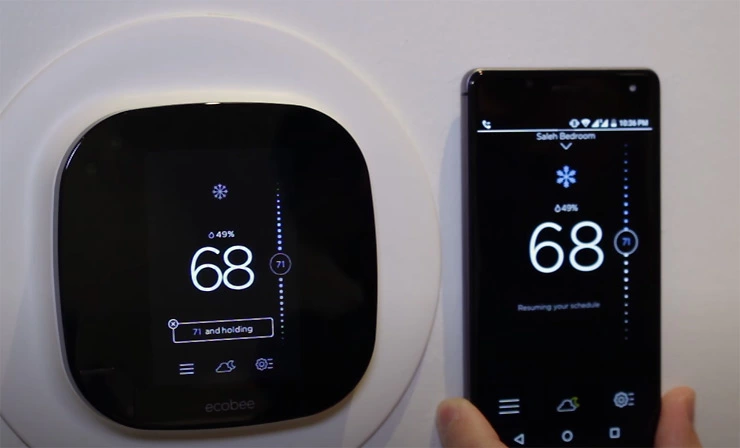 The Ecobee sensors work by gathering data (level of temperature and number of occupants) in a particular room and then transferring the data to the Ecobee Thermostat. Upon receiving the data, the thermostat will then regulate the room temperature to either heat or cold based on the preset standard settings you have established: provided that you have already enabled the smart home and away or Follow Me feature on your device.
What is the difference between Ecobee and Ecobee light?
If you are a big fan of Ecobee and you would like to buy their thermostat, you have two options to choose from: either you choose Ecobee 3 or Ecobee 4. While Ecobee 3 is more of an older version, Ecobee 4 is a complete upgrade and fully equipped with the latest technology. Ecobee lite is a slight upgrade from Ecobee 3 but substandard to Ecobee 4 when it comes to quality. People often compare these two products and here I have compiled a list of distinguishing factors between the two.
Ecobee 4 has inbuilt Alexa, a feature that is absent in Ecobee lite.
Ecobee 4 is equipped with a room sensor, Ecobee lite does not have such a feature.
Ecobee3 lite is thinner and smaller in shape compared to Ecobee 4.
Ecobee 4 has more wire terminals, Ecobee3 lite comes with fewer wire terminals.
Ecobee3 lite is cheaper compared to Ecobee 4.
Do I need an Ecobee for each zone?
Yes, you need an Ecobee for each zone. Each zone or area of your HVAC system is controlled by the smart Ecobee thermostat. Therefore, to ensure smooth operation in all zones without one depending on the other, you will have to designate a specific Ecobee thermostat to control a particular zone.
Does the Ecobee thermostat work with Alexa?
Yes, the Ecobee thermostat work with Alexa. The Ecobee thermostat will work perfectly well with Amazon echo and dot devices, and therefore, you can easily control your Ecobee gadget with amazon's Alexa voice control.
Is the Ecobee thermostat wireless?
Yes, the Ecobee thermostat is wireless. Ecobee thermostat works with WiFi, and therefore, it does not need to be connected with wires before it can work effectively.
Does the Ecobee thermostat work without WiFi?
Yes, your Ecobee thermostat should work without WiFi. Although your SmartThermostat is designed to work with WiFi, when you are not connected, it will function normally just like the traditional thermostat.
However, before you can use your Ecobee thermostat without WiFi, you must have to open and registered an Ecobee account after installation using WiFi, once that is done, you can run your Ecobee thermostat without Wifi.
Does the Ecobee thermostat require C-wire?
No, the Ecobee thermostat does not require a C-wire to function effectively. However, you may require to have a 4-wire cable. This is because most times, your Ecobee thermostat may need to be connected to a power extender kit. You will use the wire to connect the trio of your unit, thermostat, and power extender kit.
Do I need to calibrate my Ecobee thermostat?
No, you do not have to deliberate your Ecobee because it is done automatically. When your thermostat is in calibration mode, you would see a message on the Ecobee thermostat saying "calibrating: heating and cooling disabled". When you see this, it means your thermostat is calculating the current indoor temperature. Normally, the Ecobee thermostat will calibrate after the first installation and when you reboot the device. The ecobee thermostat should not take more than 5 to 20 minutes.
How to control the temperature using the Ecobee smart sensor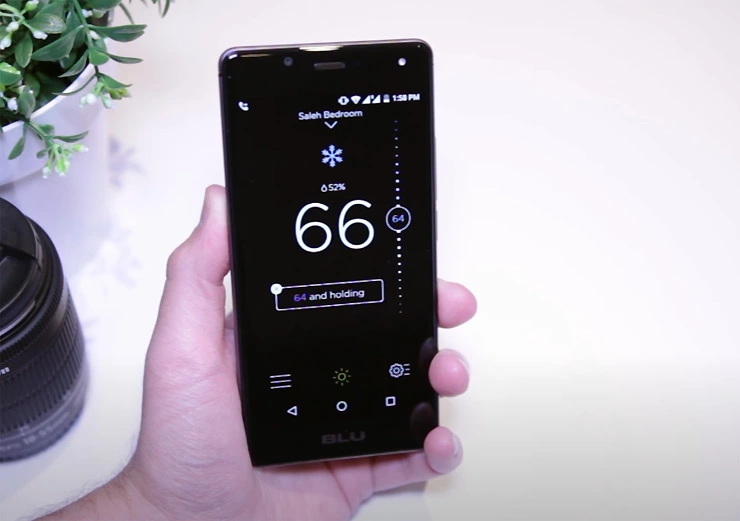 You can control your room temperature to the desired level by utilizing any of the 3 major settings or modes available on your smart sensor. These features include Smart sensor participation, Follow me settings, and Smart home & away features. Check below for details on how to utilize these features.
Smart sensor participation
Smart sensor participation is the most important feature on your device. Make sure your smart sensor is placed in the most frequented place in your house or in places that are usually warmer or cooler than the others.
After proper placement, activate the sensor to participate in average temperature depending on the comfort settings preset. Each time you connect the smart sensor to your thermostat, it will notify you of a successful connection by asking you what comfort settings you love to have it participate in. The settings can be adjusted later as required.
The Ecobee thermostat also has 3 default settings that can be upgraded to accommodate more as the requirement increases. These settings are deliberately included in the design of the device to adjust to your preferences and schedule.
To get the best performance out of the sensor participation, you must operate it together with the " Follow me" feature: for without it enabled, the sensor participation will be working at average capacity. By selecting what sensor to participate in each preset comfort setting, you will be heavily involved in how your Ecobee determine the average temperature.
At least one sensor must participate in each comfort settings. This sensor can be deactivated in the Ecobee thermostat if you desire to utilize the remote sensor anywhere within the house.
Follow Me settings
The Follow Me settings works to improve the general performance level of the smart sensor participation discussed earlier. The sensor participation is only a part of the total sensors actively involved in the overall comfort settings.
When the Follow Me feature is activated, the Ecobee will check the temperature of each participating sensor as well as the occupancy reading displayed on the sensors. It wouldn't take an average temperature reading for a sensor to calculate several occupancies. The Ecobee calculates by factoring in the amount of time spent in a room.
In a situation whereby the number of sensors that detects occupancy is more than one, the Ecobee will make necessary adjustments to the temperature to ensure that your HVAC system does not have to deal with sudden changes in temperature level.
Smart Home & Away feature
If any participating sensor detects motion while in "Away" mode, switch to "Smart Home" mode. But if no participating sensor detects any motion within 2 hours while in "Home" mode, switch to "Smart Away".
When you have SmartHome/SmartAway activated, the Ecobee is designed to automatically adjust your schedule to either setting Smart home (comfort) or Smart away (savings). This is to ensure that you can save both money and energy while you are away, and also that you can enjoy a certain level of comfort when you are home.
Smart home mode
The smart home mode makes use of the home comfort setting to make needed adjustments. If you put your Ecobee in the "Away" comfort setting for about 1 hour, and your "Smart Home" has remained inactive for about 2 hours, the Ecobee will automatically switch to "Smart Home" once a sensor detects that a room has been occupied. It will remain in that mode until any of the following changes occur:
When the room is not occupied within the 2 hours.
When you manually cancel "Smart home" mode.
When the next programmed comfort schedule is activated.
Smart Away mode
The operation of Smart Away mode is a little cumbersome compared to Smart home mode. However, just like the Smart Home mode, the Smart Away mode also makes use of the default "Home" comfort setting as the standard temperature level. This will, in turn, cause the temperature to fall to a certain degree lower than the standard temperature level.
When none of the participating sensors detects any motion in the room for about 2 hours, the Ecobee will automatically activate the Smart Away mode and will remain in that mode until any of the following occur.
Upon detecting occupancy.
When you manually deactivate Smart Away mode.
When the preprogrammed comfort settings become activated.
Does Ecobee read Humidity?
Can you control humidity with ecobee? Yes, your Ecobee can the prevailing humidity level of your room. Ecobee reads the amount of humidity present in the air and makes necessary adjustments as needed. However, Ecobee can only read and make adjustments to humidity level within a space but the moisture level cannot be readily controlled just by turning the humidity on and off. 
How does Ecobee control humidity?
The Ecobee smart thermostat has an in-built humidity sensor that reads humidity and adjusts as needed to keep it at your desired level. After plugging the Ecobee into your HVAC system, it can help you control the level of humidity within your room in several ways. Or better still, you can connect it to a humidifier.
Once the Ecobee is connected to any of the devices (AC system or Humidifying), it can control the level of humidity within a space by making necessary adjustments to the humidifier or the AC unit.
How to lower Humidity with Ecobee
After successfully connecting your Ecobee to the Humidifier or your AC unit, you can lower the humidity level by following the processes below.
Go to the main menu and click on "Installation settings" and click on "Threshold", then select " AC Overcool Max."
Select your desired level of Overcool by inputting in the degree by which you want the temperature to be reduced.
Click on the main menu and click on dehumidify menu. Select systems and activate dehumidification by selecting "Dehumidify using AC". A menu will pop up from which you can select the humidity level you want.
Ecobee smart thermostat HVAC compatibility
Ecobee is compatible with almost every residential Heating and cooling system within North America, whether it be oil, gas, dual fuel, or electric-powered systems. Below are listed, some devices that can be used together with your Ecobee smart thermostat as well as some non-compatible devices.
Compatible devices
24 VAC controls
2 stages of heat as well as double stages of cool
Single accessories like, humidifier, ventilator, dehumidifier, HRV, ERV
Singular speed fan control
Geothermal heat pumps
Non-compatible services
PEK without a C wire. C wires usually come with air handlers.
High voltage systems, for example, electric baseboard heaters.
Millivolt systems e.g fireplaces or wood stoves.
Will Ecobee work with my HVAC?
Yes, Ecobee should work perfectly well with your HVAC system. Check the above section to check whether your HVAC falls under the compatibility category or not.
Is Ecobee compatible with Lenox?
Yes, Ecobee is compatible with Lenox. Ecobee is compatible with the Lenox dehumidification cycle, however, you will need up to 7 wires to connect your Ecobee to the Lenox furnace. You will need, C, W1, W2, R, G, DS, and Y1 wires.
Is Ecobee compatible with Bryant's evolution?
Ecobee is compatible with Bryant's evolution. 
Is Ecobee compatible with Daikin?
Yes, Ecobee is compatible with Daikin mini-splits. However, the connection is not a regular type that can be done using the DIY method. You must hire a seasoned professional to help you with the connection.
Is Ecobee compatible with Honey well?
No, the Ecobee thermostat is not compatible with Honey well
Is Ecobee compatible with Trane
Yes, Ecobee is compatible with Trane and some other major manufacturers like Goodman, American Standard, Carrier, Lenox, Amana, Rheem e.t.c. 
How to turn on AC with Ecobee
The process involved in turning on AC with the Ecobee thermostat is not complicated. All you have to do is go to the main menu, click on Settings, select installation settings, click on Threshold, then select auto heat/cool then click on enable.
Ecobee HVAC mode
The HVAC mode is the current mode that is actively in operation provided by the Ecobee thermostat. This could be any of, heat, cool, off, auto, and auxHeatOnly.
How to change the time on the Ecobee thermostat
Ecobee thermostat automatically updates date and time using the internet and as a result, you may hardly be required to make changes to SmartThermostat date and time. But if you would like to manually set your date and time, follow the steps below.
Go to the main menu of your device.
Select settings.
Select date and time.
Make necessary adjustments.
How to set schedule on Ecobee thermostat
Go to the main menu on your thermostat.
Select schedule.
You will see several schedules for each day.
Tap on any day on the list to see your schedule for that particular day.
To change the start time of an activity, click on the activity and adjust the time.
How to reboot Ecobee thermostat
To reboot your Ecobee thermostat, all you have to do is to press the reset button at the bottom left corner of your thermostat.
How to take the cover off Ecobee thermostat
To remove the cover from your Ecobee thermostat, put your thumb and index fingers on the cover and pull away from the device. Unfasten the screws on the cover to detach it from the wall.
How to use Siri with Ecobee thermostat
To integrate your Ecobee thermostat with Siri, follow the steps below.
Make sure you have a device that is compatible with the Apple hub and that the iOS of your iPhone is 15 and above.
Choose Siri as your preferred voice assistant on your Ecobee app.
Activate the homekit pairing mode on your Ecobee thermostat.
Include your Ecobee thermostat ad one of the homekit accessories.
Go to the Apple home app and activate Siri.
Why is my Ecobee HVAC not turning on?
If your Ecobee HVAC is not turning on, it may be as a result of the following:
Your desired level of temperature may be lower than or the same as the current temperature in your room.
When the furnace overheats.
When the furnace is not receiving enough power.
You have unwittingly activated a setting on your thermostat that is prevent your system from turning on.
Ecobee HVAC maintenance
The best maintenance you can give to your Ecobee HVAC is by hiring an HVAC technician to check on your HVAC system at least twice a week. They will come around during spring to check on the cooling system and return during fall to check in the heating system.
Asides from this, you can also carry out the following maintenance tips on your HVAC system once or twice a week.
Check your filter regularly and make changes if needed.
Switch on the blower fan of your unit to check if it is in perfect condition.
Check the air vent for any necessary adjustment.
Check if the condensate pump of your unit is working perfectly.
Clean the outdoor condenser of your heat pump.
Humidifier pads should be replaced.
Test the furnace.
Make necessary adjustments to your smart thermostat schedule
Ecobee power extender kit
The Ecobee power extender kit makes use of the power stealing technology to try to withdraw as much energy as possible from the HVAC system to recharge its battery. When the HVAC system is running, the thermostat gets lesser energy, but when the HVAC system stops working, it gets more energy.
Ecobee thermostats FAQs
What is pek on the Ecobee thermostat?
The PEK feature in your Ecobee devise stands for Power Extender Kit. The Power Extender Kit(pek) supplies the component with the much-needed electric power to work the display and connect it to the wifi within the system without having to use a C-Wire.
What does auto mean on the Ecobee thermostat?
Auto simply means you are putting the room temperature in auto mode. When you set the thermostat to auto mode, both the heat and coolness of your room will be altered accordingly. That is, the room temperature will alternate between heat and coolness as required. This mode is best for people who live in areas with the temperature that fluctuates.
How long do Ecobee sensors last?
The durability of your Ecobee sensor depends on what version of the product you are using. For instance, an older version of the Ecobee sensor makes use of CR2032 batteries that are shaped like a small silver coin and only last for about 18 months. The newer version called the new smart sensor makes use of the CR2477 battery and can last for about 5 years.
Can I use two Ecobee thermostats?
Yes, you can use two Ecobee thermostats. According to Ecobee thermostat developers, multiple Ecobees can be synced together. He further explained that all Ecobee devices are compatible with one another because of their interconnectivity.
Does the Ecobee thermostat have a camera?
No, the Ecobee thermostat does not have a camera. However, Ecobee makes a smart camera that can be connected with the sensor of your Ecobee smart thermostat.
Does my Ecobee thermostat have a battery?
Yes, the Ecobee thermostat comes with a battery. Your Ecobee thermostat will come with a WiFi sensor that is powered with a CR2032 coin-cell battery. According to the manufacturer, the battery should last for about 4 years and you should be notified once the battery is running low.
Do Ecobee thermostats work with boilers?
Yes, the Ecobee thermostat works with boilers. Your Ecobee thermostat whether it be the Ecobee3 or Ecobee4 can work with almost every boiler. However, the Ecobee thermostat is best used with gas boilers.
Can the Ecobee thermostat play music?
Yes, the Ecobee thermostat can play music. The latest feature included in the Ecobee SmartThermostat is that they can stream music services on Spotify, Pandora, Amazon, TuneIn, and iHeartradio. However, if you use Ecobee 4, you might not be able to stream music from Pandora or Spotify.