No matter where we go, we always see Haier-made AC everywhere. Many people praise the specifications they have, to a point that some of us may wonder, "Is Haier a good AC brand?"
Yet, before we say that it is a good brand or not, we're going to take you to the all-about for Haier company, the company behind the (seemingly) good AC. We're starting from the short history of Haier as a company.
The history of Haier
Haier Group Corporation, or known as Haier, is a Chinese multinational corporation that was built by Zhang Ruimin, the current Chairman and the CEO of the corporation, and has a headquarter in Qingdao, Shandong.
True to the city's name where the headquarter is located, Haier is previously named Qingdao Refrigerator Co. The current "Haier" name is a Chinese transliteration of Liebherr, Germany's refrigerator company that entered into the joint-venture contract with the now-famous-and-successful Chinese company by offering it technology and equipment.
Starting from the opening of production facilities in Indonesia in 1996, Haier has begun to expand the brands to other countries as well, namely, Thailand, the U.S., Pakistan, Jordan, India, and many African countries.
What are things Haier sells?
As a company that focuses on designing, developing, manufacturing, and selling household appliances, Haier sells different types of equipment that are used at home. Some of them are refrigerators, AC, washing machines, microwave ovens, and televisions.
Haier also has seven global brands that focus on the home appliance business named Haier Smart Home. The seven brands are Haier, Casarte, Leader, GE Appliances, Fisher & Paykel, Aqua, and Candy.
When we look at some of the seven brands' names, we'll see that some of them are based on the company's names of which Haier acquire. Candy, for example, is from the Italian Candy Group that Haier acquired on September 28, 2018. GE Appliances is another example that was taken from the same company name and division that was bought by Haier in 2016.
AC is one of Haier's products that we're going to discuss further in this article. We'll start with the strengths of Haier's AC.
The unique strength of Haier's AC
The strengths are also the strong points that make Haier-made AC distinguishable from AC that is made from other companies. Below are what make Haier's AC so strong in terms of its presence:
Competitive Price vs Quality Ratios
More often than not, cheap products tend to have low quality, and high-quality products tend to come with expensive prices. China, the country where Haier is originated, is well-known for producing low-priced products that are also high-quality, and Haier is no exception with their AC products.
Haier's AC prices are reasonably competitive when compared to other Asian AC brands, such as Samsung and Panasonic. Yet, Haier's AC receives consistent good ratings from customers all over the world in terms of the qualities.
Many Choices Of Available Features
Despite the cheap prices of Haier's AC, there are lots of features in Haier's AC that make your life easier. The features available on every Haier's AC product don't stop in the 3 modes: AC, Dry Only, and Fan Only.
Instead, Haier's AC products are also equipped with convenient features, such as the LED displays that appear sleeker and more aesthetic compared to AC products from other brands and the multi-level AC and fan settings that consist of many performance-improving features.
One Of The Most Environmentally-Friendly AC Brands
Haier doesn't stop in providing the economic-priced AC products with plenty of features, nor that it merely stops in providing you with the AC remotes that can switch to the Fan Mode to reduce the environmental impacts in your rooms.
Haier's AC products are also complete with formaldehyde-free freons. Since the freons are free of formaldehyde, you will benefit from both the cancer-free environments and the chemical substances that can deplete the ozone layers.
Has One Of The Most Advanced Technology Application And After-Sale Services
Photocatalytic Filter, Intelligent Air Flow, and the "I Feel" features that can balance indoor temperatures and the air qualities are the proofs that Haier's AC products have one of the most advanced technology applications despite the cheap prices compared to the competitors.
Not stopping there, having had more than 17 updates on the after-sale services, it is also no doubt that Haier's after-sale services are among the best ones. 
Those strengths don't only strengthen Haier's achievement in being the number one major appliance brand in the world for 10 years in a row, from 2009 to 2018. Those strengths in their AC products also help in proving that Haier's AC is a good one.
At the same time, knowing the strengths of Haier's AC is not enough to answer the question, "Is Haier a good AC brand?" 
So, over the next point, we're going to give the more elaborate answers – hope these will shed a light for you.
Is Haier a good AC brand?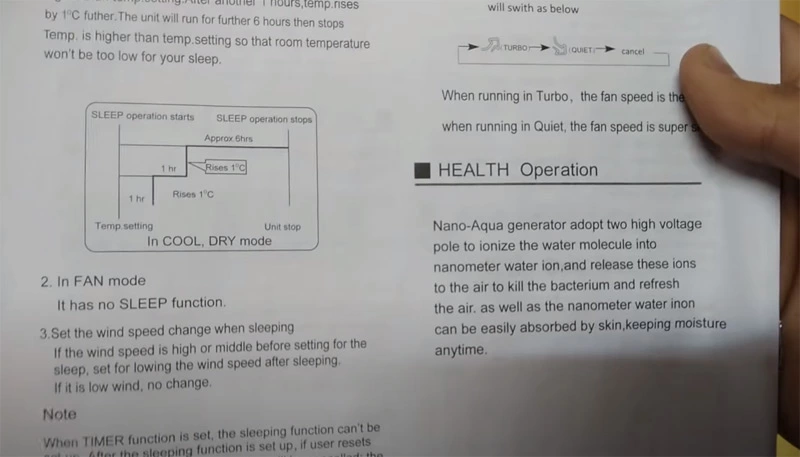 Yes, Haier's AC has more than one strength that proves its capabilities. Yet, is Haier a good AC brand? In other words, will you not regret your decisions if you choose Haier's AC for your house?
Just as with AC and home appliance products from other companies, the "yes" answer will remain if you maintain your Haier AC the right way. 
Simply replacing your Haier AC with another Haier AC won't help if you don't know the step-by-step to fix your broken Haier AC, how to contact Haier's customer service department, the Haier AC models that are suitable for your needs, and more.
Choose the right Haier AC models so you don't suffer from the grave consequences later on. We recommend Haier 14000 13,500 BTU 115V Dual-Hose Portable for the best results.
Is choosing Haier's AC a good decision?
The answer is yes – the strengths don't only prove Haier's presence. As long as you know how to fix and maintain the quality of your Haier AC products, and choose the right Haier AC models for your rooms, we can reassure you have the right choice when you buy Haier's AC products.