What is the best portable air conditioner on the market? This article we listed down the top rated portable air conditioner that worth a try.
Evapolar Evachill
Evapolar is one of the best air conditioner companies in the world. As a personal air conditioner evapolar evachill is the best and suitable among others. Evapolar evachill is a lightweight conditioner that is easily portable using a handle on the body. It has the capability of purifying & humidifying your environment.
A USB-C cable is given with this air conditioner. You can plug it into a laptop, desktop, or power supply. It has two facilities either you can use it as a table fan or you can add water in a water refill pot to make an air conditioner, personal humidifier, and air purifier. The extended tanks will allow you to enjoy the coolness for up to 9 hours. It does not generate freon which is extremely bad for human health and is considered as eco- friendly air cooler.
Key Features:
Chills purify and humidify
Consumes only 7.5W electricity
Ultraportable with a handle
Leakage proof system
One button control with four options
Cute & pretty award-winning design
Whisper Quiet
Weight only 26oz/750g
Specifications:
| | |
| --- | --- |
| Coverage area                                         | Up 2-2.5 |
| Net Weight   | 750 g |
| Size  | 170 x 170 x 172 mm  6.69 x 6.69 x 6.77 inch |
| Color | Opaque White, Urban Grey |
| Water refill cycle | Every 3-8 hours |
| Energy consumption | 7.5W |
| Noise level | Up to 50 dB ( very low) |
| Power plugs | US, UK, EU, AU |
| Power supply | USB Type-C |
| Supplied accessories | Cartridge, Power cord, Funnel |
| Evaporative cartridge life expectancy | 3-6 months   |
PROS
CONS
1. Low energy consumption
2. Lightweight & Easily portable
3. Four different fan speed
4. Freon free
5. Noiseless
6. Eco-friendly product
7. Small in size
1. Humidifies the air only around the device
2. The drier the air, then the more water needed
3. Relatively expensive
4. Slow delivery of cooler

---
Cosmos Daisy
Cosmos Daisy, a Canadian tech startup company, brings a complete package named cosmo daisy- portable air conditioner & heater with a completely new and modern design. It holds a big 3000 BTU cooling and heating power which will fulfill your desire. Just by pushing a button, you can switch from heating to cooling or cooling to heating. It has thermoelectric cooling technology which makes Cosmos Daisy a lightweight, and easily portable. So, you can take it anywhere according to your needs.
This compact and low weighted device is not basically an evaporative cooler. It is a real portable air cooler, and heater,  with a smooth cooling and heating power. You can use it in the office, personal rooms, indoors, events, outdoors, camping, tents, traveling, caravans, cottages, and any other places where require heating or cooling to make a comfortable environment. It has a developed and smart controlling system that preserves the right temperature and automatically maintains the fan speed for the comfort you need.
Key Features:
Heater
Air Conditioner
Dehumidifier
Super quiet operation
Recycled condensate technology
Built-in power supply
Cosmos Daisy has well-equipped functions to maintain the perfect temperature anywhere you want. It is a super quiet (55 dB) and functioned with a dehumidifier to maintain the right humidity and provide maximum comfort. It uses the recycled condensate technology, so it does not need condensate drain.
Specifications:
| | |
| --- | --- |
| Cooling & heating technology | 20 solid state devices |
| Weight | 13 lbs (5.8 kg) |
| Size | 287.5mm x 283mm x 287.5mm |
| Cooling area | 150 sq.ft. |
| Cooling capacity | 850 w |
| Noise Level | 54-65 db |
| Operating voltage | 12 V |
| Fan speed | 2600 RPM, 110 CFM |
| Maintenance | Zero maintenance needed |
| Working Temperature | 12C-38C |
PROS
CONS
1. Lightweight and easily portable
2. Can cover a large area
3. Auto controlling system
4. Easy to operate
5. Drip & leakproof
6. The very low noise level
1. Comparatively consume more energy
2. Relatively much weighted
---
Ambi Climate 2
We have already experienced some of the smart home kits but when it comes to the air conditioner controller it will be Ambi Climate 2 produced by Ambi Labs. It will allow you to control your AC unit not only from your phone but also lets AL learning to control your AC to make a suitable and comfortable environment inside your room
This second-edition of Ambi Climate emerged with a bit more ambitious features than the original one. In Ambi Climate 2, you must ensure that you have an air conditioner, and to control it you need a remote with an LCD display. The ambi climate 2 won't work properly If your AC unit doesn't have this type of feature.
The new version Ambi Climate 2 is a combination of previous versions and new features. It looks tremendous as it includes some most popular smart assistants, like Amazon Alexa and Google Home, Apple's Siri, etc.
Key Features:
Al control system uses machine learning and a smart sensor to understand your comfortability. Based on it this system efficiently controls overcooling and overheating.
The unique sensor measures the temperature, outside humidity, day sunlight, and even the performance of your AC.
It needs wifi connection so that it can gather online data, like measuring the local weather, time of day, as well as the state of your comfortability.
By using Ambi Cloud  AI algorithms it analyzes each data to help and make a comfortable environment.
Keep your home temperature always-perfect conditions by using your smartphone.
You can control and integrate your device by communicating with Alexa, Google Home, or Siri to provide smooth feedback and control your AC.
Specifications:
| | |
| --- | --- |
| Manufacturer | Ambi Labs |
| Color | White |
| Wifi | 802.11b, 802.11g, and 802.11n-24 |
| Dimensions | 10.8cm x 4.2cm x 8.1cm |
| Weight | 110 grams |
| Power | 5V DC, 1.0A via micro USB power cable |
| Transmission | Seven infrared transmitters for aircon connection |
| LED | RGB |
| Languages | English, Traditional Chinese, Simplified Chinese, Japanese, Arabic |
| Setup | 2.4 GHz Wi-Fi network connection |
Compatibility:
iOS: Version 9 or later
Compatible with iPod touch, iPhone, and iPad
Android: Version 4.1 or later
Compatible with most infrared remote-controlled ACs, including over 50 brands and 1,200 models.
PROS
CONS
1. Artificial intelligence knows your preferences
2. automatically. You can control your AC by using an app
3. It takes the weather, humidity, time of day, and more into account.
4. Works with all aircon Units.
5. Compact and modern design.
6. USB plug is compatible.
7. Additional sensors.
1. Only for remotes LCD screens aircon
2. Limited to 2.4GHz Wi-Fi only
3. The preferences are hard to learn
4. Doesn't work with HomeKit without a plugin  
---
Zero Breeze Mark 2
Zero Breeze Mark is considered as the world's first portable air conditioner. After that, it came up with a new feature Zero Breeze Mark 2. It is popular for its appropriate size and weight that has a 24 V micro inverter compressor, operated by a smart battery, will provide you up to 5 hours of cooling. IT is lightweight and portable so you can take it anywhere you want, like a boat, forest, plane, camping, or rest in a truck.
You can use your car to charge the smart battery. Mark 2 works in two different modes: sleep mode and power mode. The sleeping mode works better in outdoor campaigns at night and power mode is congenial for rapid cooling when you sweat much.
Mark 2 has a cold air temperature display. After switching on, you can see the gradual changes in air outlet temperature from the little hot temperature to the cooling temperature. It has a heat outflow pipe that can transfer the heat from enclosed space to the out of the space.
It has 2300 BTU cooling power that can accelerate the cooling power within 10 minutes. It is basically designed for covering about 30-100 square feet of space. Even for being small in size and lightweight you can easily put it within a small space.
Key Features at a glance:
Cold air extension pipe
Dump protection
Sleeping mode and power mode
Battery buckle system
Cold air temperature display
Heat dissipation pipe
Specifications:
| | |
| --- | --- |
| Working Mode | Cool, Fan (4 level), Sleep, Super Cold |
| Wind Speed Level | 4 |
| Sound Level | 52dB (A) |
| Cooling Capacity | 650W |
| Climate Type | T1 |
| Cooling Rated Input | 240W |
| Rated Voltage | 24V DC |
| Unit Size | 20″L x 10″W x 11″H |
| Weight | 16.5lb |
| Moisture Protection | IPX4 |
| Vent Hose Exhaust Configuration | Dual Hose |
| Cooling capacity | 2300 BTUs |
| Area Coverage | 40 square feet (ideal) Max- 200 sq. ft. |
PROS
CONS
1. Lightweight and easily portable
2. Smart battery with AC/DC adapter  
3. Easy to clean the filter 
4. Multiple speeding system
5. Quicker operation than other portable AC
6. It takes a small space to put in  
1. The capability of cooling in a very small area 
2. Battery capacity only 5 hours
3. Required extra battery to use in outdoor
4. Possibility of mixing up  hot air with cold air Relatively expensive
---
Kapsul W5 Smart Air Conditioner
In the new era of the modern air cooling system, all the hustle have gone. Kapsul W5 Window Air conditioner brings great facilities for the hot summer days. It increases the beauty and comfort of a smart home. Perhaps it is the most beautiful window air conditioner among others with glossy color and design.
It is super easy to install with a window frame even you can fix it within a minute. The window frame is designed in such a way that is adjustable with the window. You can attach the AC with frame by a perfect seal.
A comfortable handle makes the Kapsul air conditioner easy to pick up and carry easily. The decreased height (7 inches) makes it easy to keep anywhere in your house. It has a 5000 BTU unit that makes the cooler of your room in a short time.
The kapsul W5 will give you a controlling power of your home temperature. It is WiFi-enabled and integrates with Alexa and Google Home. You can control kapsul W5 by just installing an app in your smartphone.
Even if you need fresh air the kapsul W5 has fresh air mode that exchanges outside air with warm air inside your room. It is much energy efficient and whispers quietly than the traditional Ac.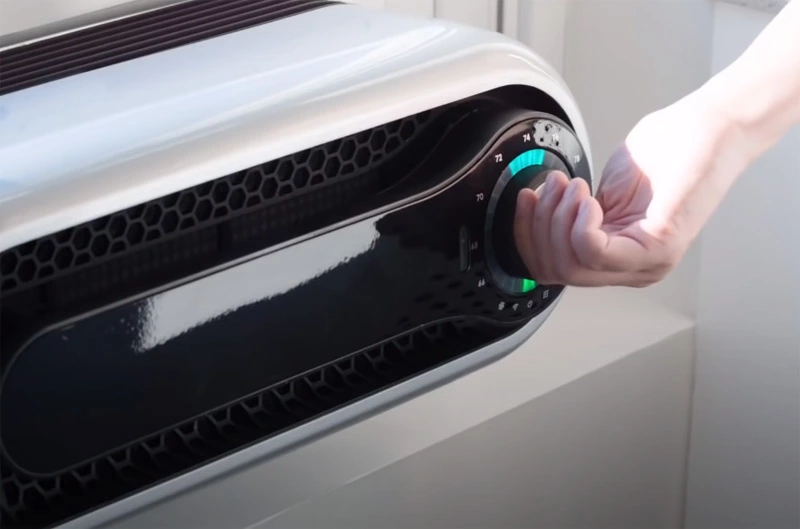 Key Features:
Compact in size
Innovative installation
Smart controlling systems
Beautiful design
Fresh air option
Specifications:  
| | |
| --- | --- |
| Type | 5,000 BTU Window AC |
| Dimensions | 7″ X 20″ X 22″ |
| Window Size | 21″ to 36″ wide |
| Weight | 40 pounds |
| Power Type | 120V AC |
| Power Usage | 480 W |
| EER | 11 energy efficiency rating |
| Temperature Scale | Fahrenheit |
| Operation | between 70º – 110º F |
| Certifications | FCC and ETL |
| Integrations | WiFi , Alexa & Google Home |
| Noise level | 50 dD |
PROS
CONS
1. Easy to install
2. Consume small area
3. Smooth operation
4. The very low noise level
5. Small and portable in size
6. Smart Controlling facility  
1. Comparatively high energy consumption
2. Problems in Placement
---
Jeteven Portable Air Conditioner
Jeteven Portable Airconditioner is of the unique invented portable aircon. Jeteven perfectly designs this aircon for personal use. It is a super handy product, you can carry it anywhere for making more enjoyable surroundings. It's a Multifunction system, with a Personal mini air cooler, fan, and air humidifier. All these features will turn your personal place into a very refreshing and cool environment. It has the ability to purify & humidifying that is so helpful for your own circumstances.
It comes with a quiet humidifier, lightweight, very small shape, and portable design, it also has a handle to carry it out. Jeteven Portable Air Conditioner is perfect for your computer decks, office, outdoor place, and more. This aircon has a small tank, you have to fill this tank with water and plugin. Then you can enjoy the cool and fresh air for your personal place. For the best performance, you can add some cool water or ice cube to the water tank.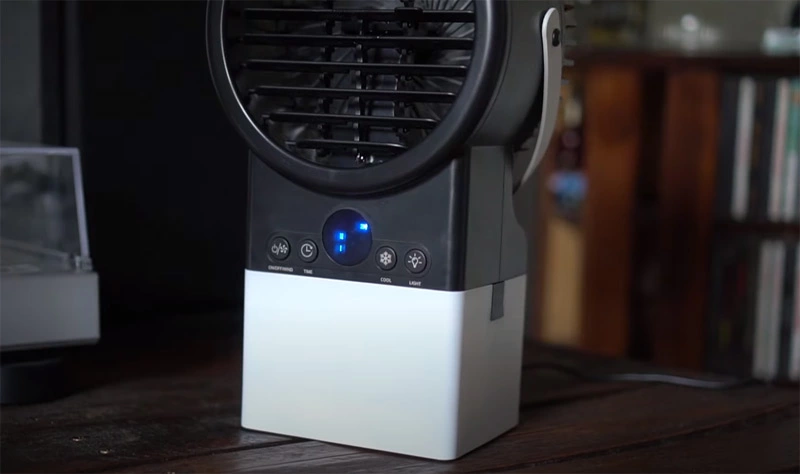 It makes with ABS material that is extremely eco-friendly and does not generate Freon. A cable is given with this portable air-con, you can plug it with any wall socket. Just plug it and forget about the batteries. Round shape led display and 4 button makes a very user-friendly control system. By these 4 buttons, you can easily control.
Power or fan speed
Fog
Timer
Light color variation
It has so quiet sound level, by pressing 3 times the power/speed button you can control the fan speed of this aircon when you press it for a long time it will be off automatically.  There is two fog control system heavily and normal. You can set a definite time for 2/4 hours.7 attractive light makes this product gorgeous. It continuously changes the color but if you want you can fix one colored. It consumes low power as, like a bulb, it is a much better and cheaper product than the big air-con for personal use. But Jeteven Portable Air conditioner is not for cooling large space or a room, you can just use it for yourself.
Specifications:
| | |
| --- | --- |
| Product Model | H-2001 |
| Product dimension | 3.94 x 3.94 x 3.94 inches |
| Weight of the product | 1.03 KG |
| Material | Acrylonitrile Butadiene Styrene(ABS) |
| Voltage rating | 24 VDS |
| Power | 24 W |
| Water Tank Capacity | 500 ml |
| Wind speed | 5m/s (max) |
| Control system | Key |
Key Features:
Air Conditioner
Best purification system
Moisture control
Leakage proof system
Ultraportable with a handle
4 button control with LED display
Absorbs low electricity (24W)
Whisper-quiet operation
Adjustable fan speeds (rpm)
| | |
| --- | --- |
| Pros | Cons |
| Effortless to fit just plugin | Doesn't work without plugin. |
| Lightweight and small shape | Small water tank |
| Whisper-quiet performance | The capacity of cooling chamber is very tiny |
| Smart Control with button and LED display | No battery |
| 3 types of speed control system |   |
| Small and stylish design |   |
| Good looking design |   |

---
Kloudi Portable Air Conditioner
Kloudi is a very good manufacturer Brand. They provide premium quality products and Build with user-friendly advanced technology. Kloudi Portable Air Conditioner Fan is one of the best products of theirs. It's an incredible portable air-con fan, the looks of this product are awesome and advanced level design. It's a combined package of essential features like a desk fan, transferable air conditioner, chill fog humidifier and air circulator.
It gives you ultra-sonic atomization technology for the best humidification. This feature is most important for moisturizing the body's skin. It will keep you moist and gives fresh cool air to keep you away from the hot. Breathe the natural refreshing air from your home with this air con Kloudi Portable Air Conditioner fan can be oscillating 90° to circulate the cool air entire the room and you can change the wind speed with three variables. This aircon gives you very fast wind flow (3.5m/s) with a maximum of 4000 rpm. It also gives a maximum fog output 100ml/h, you can change the rate as your requirement.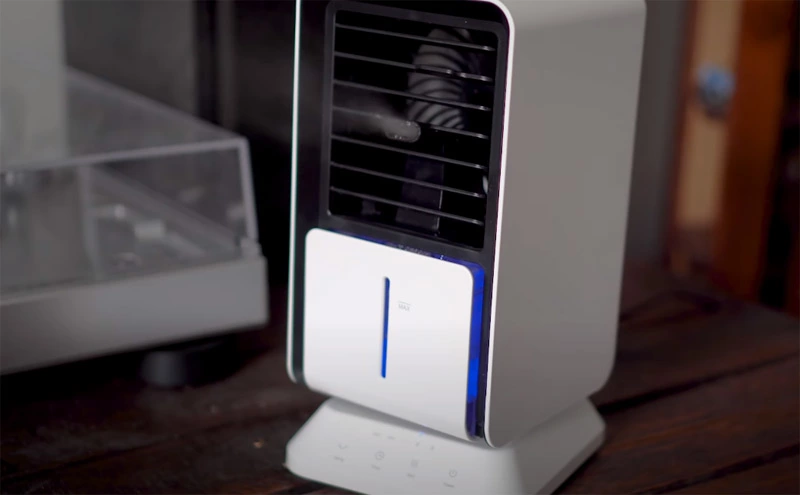 The touch-sensitive control panel will help you to easy access to the control panel, and the backlit system will help you to know about the information of speed and water level, and other information. The drawer-type reservoir design makes it very handy to refill with water. Kloudi Portable Air Conditioner has three built-in timer settings, you can set 2, 4, or 6 hours timer for running the fan. A 0.32 L water tank can assure that 4 to 6 hours of nonstop performance without stopping the humidifier.
You can easily move this aircon without any hassle, it is very lightweight and also consume the power of 16 to 18 W/hour, which is very low. This product specially designed for personal use, it is perfectly designed for every kind of person. You can use it anywhere you want. Kloudi Portable Air Conditioner Fan is the safest than which aircon that spray Freon gas. This incredible air conditioner will give you a soft blue light when it will run, it also alerts with a red light when the water tank will be empty. The soft blue light will help you fall asleep quickly. If you want to stop this light effect you can also do it.
Specifications:
| | |
| --- | --- |
| Brand name | Kloudi |
| Product dimension | 13 x 6.7 x 6.2 inches |
| Weight of this product | 2.69 pounds |
| Warranty | One year |
| Rpm | 4000 |
| Power | 16 to 18 W |
| Water Tank Capacity | 320ml /0.32 L |
| Wind speed | 3.5m/s (max) |
| Fog output speed | 100ml/h |
| Control system | Touch panel |
| Light color | Soft blue |
Key Features:
Air cooler
Rotating 90° system
Purification
Moisture level controller
Water Leakage proof
Ultraportable design
Touch control with backlit indicator
Consume low power (16 to 18 W)
Very quiet operation system
Three adjustable fan speeds (rpm)
| | |
| --- | --- |
| Pros | Cons |
| Hassel free fitting system  | Doesn't work without plugin. |
| Can be rotate 90° for circulation | No battery |
| Lightweight and awesome shape | water tank is so small |
| Ultra-quiet performance | Very small cooling chamber |
| Smart Control with touch and backlit indicator |   |
| Three types of speed control system |   |
| Small and stylish design |   |
| Unique look |   |
| Easy to fill the water tank |   |

How to install portable air conditioner in jalousie window
Jalousie window is not the perfect match for portable air conditioner. Yes, off course you can install your portable air conditioner near jalousie window but you have to tweak the window a lot. To be honest, not worth it. The best solution is vent the portable air conditioner without a window