Is non-inverter grade aircon worth to buy? In times of harsh weather in Singapore, an aircon is essential to keep you, your whole family, relatives, visitors, employees, and customers in your house or workplace calm and ultimately comfortable. However, to meet your main goal of acquiring an aircon, here are the pros and cons of non-inverter grade aircon that will let you know whether non-inverter grade aircon is a good investment.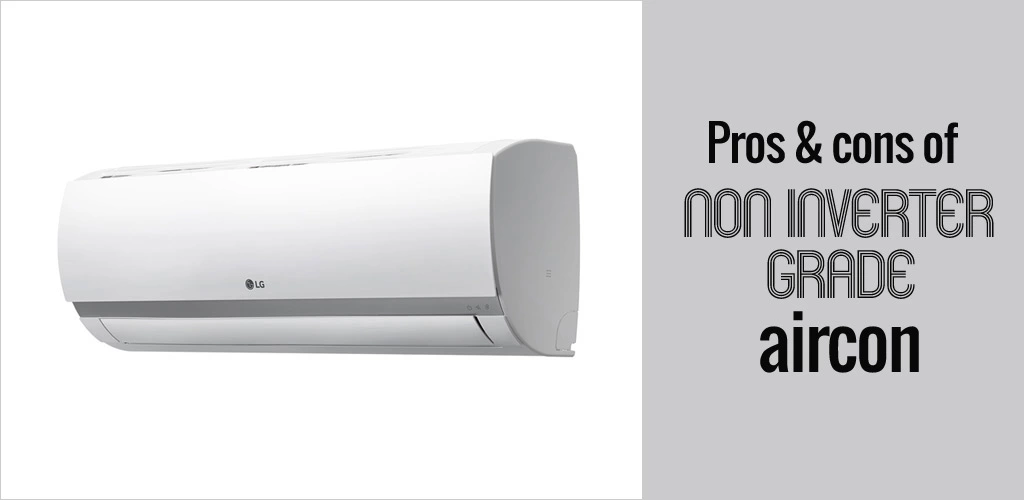 Pros of non inverter grade aircon
Easy to repair and maintain
Since non-inverter grade aircon has been invented for many decades. Therefore, most parts of non-inverter grade aircon are readily available in case of minor wear and tear. Aside from the fact that their parts are available, most service personnel had already worked on many types of this particular aircon, so troubleshooting would be straightforward without giving the technician a tough time.
Non inverted grade aircon is less expensive
Another pro of non-inverter grade aircon is that they are less expensive and more accessible than other aircon types. Furthermore, they are affordable that anyone living in Singapore with a limited income can afford them without staying out of budget.
Cheap spare part
Another significant pro of non-inverter grade aircon is component cost. The component of a non-inverter grade aircon is less expensive. Not only that the components are less costly, but also their repair and maintenance are cheaper. Therefore, any potential buyer does not have to worry about their repair and maintenance, as users can effectively manage them without staying out of budget.
Effective for areas with high temperature
For instance, other aircon such as inverter aircon are manufactured to suit areas with a low or normal temperature that they are rendered useless in the areas where their temperature is high above 45℃. Whether your area temperature is low, normal, or too high, unlike other grade aircon stated earlier, non-inverter grade aircon is designed in a way that they can manage your room's temperature effectively regardless of the temperature of your room.
Cons of non inverter grade aircon
Huge electricity bills
Since the compressor inside non-inverter grade aircon turns on and off constantly whenever the limited temperature has been reached, it causes power fluctuations or surges. Because of this, there are high chances that it will consume much energy and, as a result, lead to substantial electricity bills, thus becoming unmanageable expenses for its users in the long run.
Makes noise
Compared to inverter grade aircon, non-inverter grade aircon operates at high speed. In addition to this, due to how the compressor operates by turning on and off when it has reached a specific temperature, it makes some significant noise that could be annoying to some occupants, particularly when they are working or sleeping.
Prone to wear and tear
Unlike other aircon types, in non-inverter grade aircon, the compressor automatically turns its immediately after the desired temperature has been met. Because of this, its compressor can get worn out easily.
You may also want to know what does dual inverter mean on an air conditioner and what is a dual stage air conditioner.